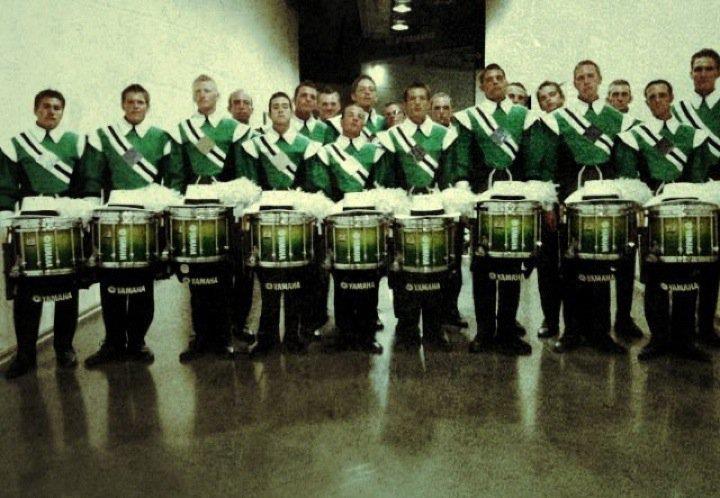 The Cavalier Experience
A Section Leader's Perspective
December 30, 2011 10:01:06 pm PST
By: Dan Schack
2,574 views
We knew going into the 2011 season things would be special. With 5 snare vets, 3 quad vets, and 2 bass vets, there was a solid base of people who had gone through the experience of marching The Cavaliers. Things here are different than other corps; our marching technique, our traditions, the way we rehearse, the way we perform. But it didn't matter that 9 new people would be joining the drum line without knowing exactly what it means to march The Cavaliers, because once we saw the prospects and the line was set, there was a sense that we were going to be good.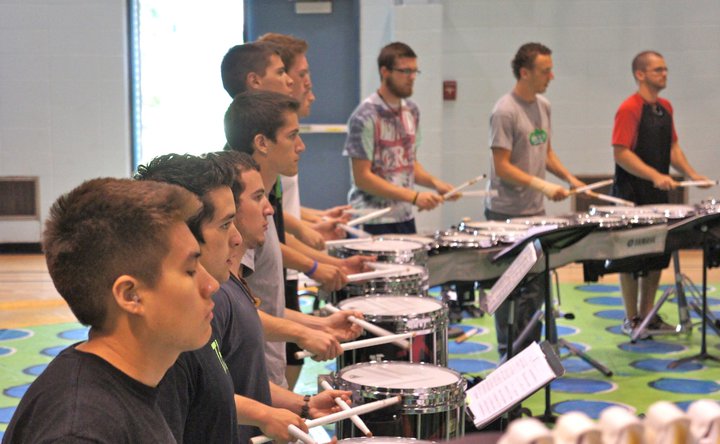 Out of all the drum line auditionees, only one made the line that had not previously marched a Division 1 DCI line, and he happened to be a senior in high school who would be the only non-ageout in the quad line. Amongst those who had marched DCI, our line was now composed of those who had marched Blue Stars, Crossmen, Colts, Spirit, and Vanguard. I remember at one point in the season, the snare line calculated how many years drum corps experience the 9 of us had. It came out to about 32 years (if my calculations are currently correct.) Not only that, but our 2011 drum line also represented some of the best Independent World Class WGI lines, including Music City Mystique, Pulse, Rhythm X, Gateway, United, and North Coast. In a time of change for our small activity, and the growth of indoor, the experience
you get inside inevitably translates outside. Our groups' work during the 2011 indoor season put us a step ahead of many other drum lines that took the winter off.

This year was different. The camps' standards were higher, and going into move-ins, the groups' ability to function successfully came fast; much faster than in 2010. We were a group with a sense of urgency, and we intended to "win the race," coming out of move-ins swinging and being undeniable, even in June. I remember wanting to not have a single lot video pop up on Youtube that I'd be uncomfortable watching.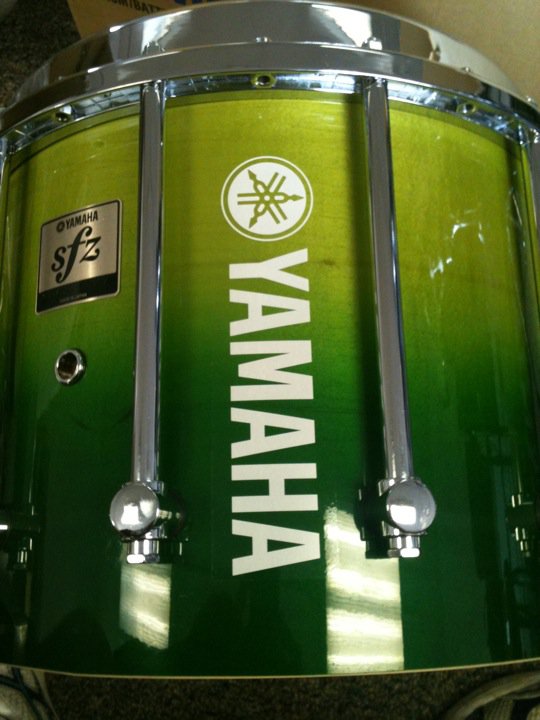 No drum line can exist without drums, and the Cavaliers' long-standing relationship with Yamaha provided us with un-paralleled equipment. As a snare drummer, I can really only speak on Yamaha snares, and as long as I have been marching, they are the best. One of the lighter snares, carrying a drum everyday does not become a burden past the first couple weeks.

The attachment system is also of the best I've used. Instead of using J-bars to connect the carrier to the drum, Yamaha uses a single post system which makes taking off and putting on the drums far less taxing. The single post also takes much lest adjustment than conventional J-bars, which can loosen, causing an unwanted tilt in the drum. The most signature characteristic of the Yamaha snares are the rim shot sounds, which not only vary immensely by how and where you hit the stick, but have resonance and tone. Many drums' rimshot sound can be abrasive on the ears. After some practice of how to hit rim shots correctly, I feel the sound is unmatchable on a Yamaha snare.

Speaking of rim shots, some new and remarkable things were done in terms of our music composition. Mike McIntosh, who I consider to be one of the most influential and innovative composers in the activity, really made strides in terms of what can be considered "marching music." Up to a point, it seemed that playing snare drum was about how fast you can play a roll, how many ways you can grid a book report, how loud you can hit the double shot release, or how many different ways you can backstick. While some of these things were still present in our music, new timbres were explored by Mac. One of the signature licks of our book was the decrescendo, metrically modulating pitched rimshot motif. The use of "colored" rim shots, as far as my research goes, has not been explored in the way Mac used them in 2011. To the say the least, I can remember looking at the music for the first time and being awe struck and puzzled.

Mac's music is influenced by genres that one wouldn't expect to see in a marching setting. Drum and Bass was prevalent in the end of our opener, where the quads' dotted eighth rhythms over the snares' sixteenth note, heavily accented beat 3 groove was one of my favorite parts. Similarly, Mac used his interest in hand drumming styles (look up Darbuka and Tabla drumming) in the composition of our second movement. Love it or hate it, this was something brand new to the scene. Using fists, claps, snaps, and palms on the snare head created timbres on an instrument that's generally thought of as characteristically loud. Paired up with some dance moves, our second movement was colorful and sensitively challenging.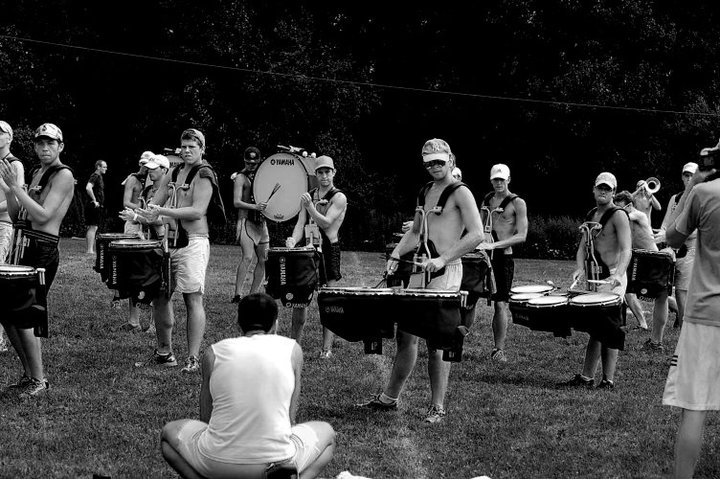 There is a large misconception about what it's like to be in a Fred Sanford drum line. Although I've only been in one, I have also been on the outside looking in. To me, many seem to think that being the best drum lines come from having cocky attitudes, being rock stars, playing the most notes, and maybe being a little lucky come finals week. But in reality, being the best by the end comes from humbleness and drive. Having a work ethic that is not sporadically juiced, but consistent through out the entire season is the real way to be set up for success. Knowing that everyone in the ensemble needs to be on board and dedicated will create a comfort in what you're doing. It doesn't take one or two people to steer the ship. It takes all nineteen. Every single day of tour. When people start fighting, or doubting that you're doing the right thing, is when there are ticks, dirt, mistakes, and more frustration.


Secondly, winning a drum trophy is incredibly rewarding for the members on the field.
We wear the uniform, we play the notes, our faces are in the adds, kids want to know what it was like for us. But in actuality, the staff has so much to do with the groups' successes. From the top down, the book that you are given, the organization of rehearsals and warm ups, the techs working on the things they know need work every day are essential. These are the things that set a group up for success. There have been tons of groups who are stacked but fall short because of a book that doesn't match their hands, or a lack of organization that doesn't set them up to be consistent. The staff many times is not thought of when a group wins. But in reality the staff just put a W under their belts as well. The Cavaliers' percussion staff in 2011 were as driven as the members, and didn't let us get complacent a single day. If you want to be good, trust the staff.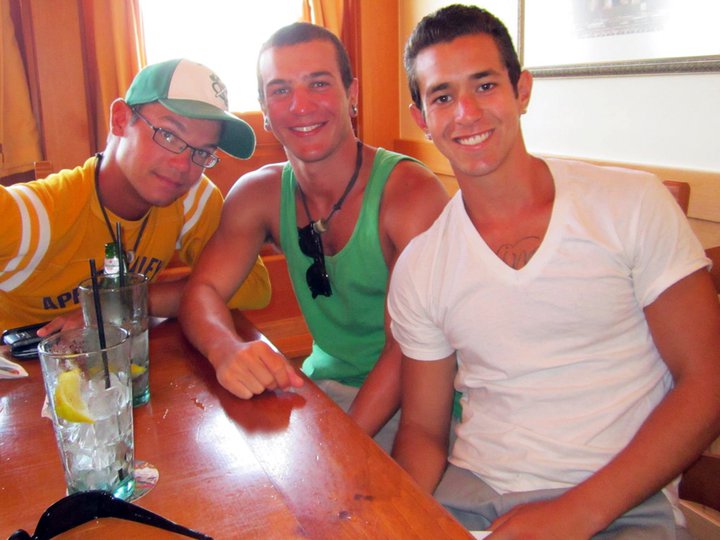 L to R, Jack (MCM), myself (Rhythm X), Isaac (Pulse)
Winning a drum trophy with The Cavaliers is certainly not something I can say I knew would happen. Marching with The Cavaliers is not something I ever saw myself doing. So many great drummers have been denied entryway into the corps that I call home. Year after year, new standards are set by the men in green, and going to a group like that is intimidating. It also has its rewards. I can safely say finals night of 2011 is one of the best nights of my life. Not because we won drums. It's because we all came off the field brothers. What had happened on the field was over, and we didn't need to worry about it anymore. What we had accomplished everyday on tour was rewarding enough. A trophy was just a little extra incentive.
SPLOOIE!
Tell us what you think:
(Please no profanity)